To make it beautiful, it was a task of the mother company Erste Bank. We contributed to a simple usability of a tool. Guess, what we are talking about? Our attention is focused on a new smart internet banking introduced by Slovenská sporiteľňa. Its name is George.
Usability test
UX testing of a first variant for desktop application was made by clients of Slovenská sporiteľňa. Eye tracker recorded eye tracking data.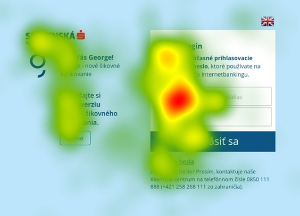 Our main goal was to find out potential reaction of existing customers on a new internet banking environment. We hereby obtained more detailed information, where existing customers search for concrete data. Simultaneously, we also found out more detailed information how existing customers connect new features with old ones. We also wanted to know all these information, because we are fully aware of a fact described by the following proverbs: "You can't teach al old dog new tricks" and "Habit is the second nature".
Read about news: web page SLSP.
Workshop – effective way of finding solutions

Test results also played an important role in adjusting of the application according to needs of Slovak users. The organised follow-up UX workshop reflected an honest effort of all participants to reach the best results. Thus, all participants got tougher under one roof. Thanks to this decision, we were able to solve many different challenges in a very short time. Broad attendance of all concerned representatives enabled us to make the whole process quicker and communication more effective.
Thanks to the above-mentioned approach, upcoming application was changing "directly in front of our eyes". In another round, we felt like we were looking at a completely new app J.
Mobil
Third round of testing was devoted to a mobile application George Go. All participants liked introductory screen and immediately wanted to browse through the whole application. We also liked a graphic design of an access to the application. It was really impressive J
However, some other functions did not satisfy us. In comparison with Austrian clients, Slovak customers usually search them at different places. Thanks to eye tracking, we obtained concrete arguments confirming this assumption.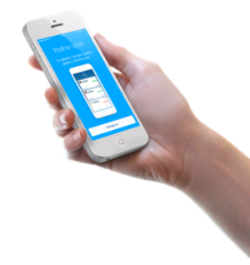 Android and IOS were tested separately. As a result, we found out more accurate information, e.g. the following:
Copying of items from other applications (though often used) do not guarantee that it shall work everywhere. Simple internet banking application does not represent a place, where bank clients search these items or appreciate it. It was probably a reason, why they did not notice them.
Each application shall be reviewed individually and it is important to view it from a different perspective of a user.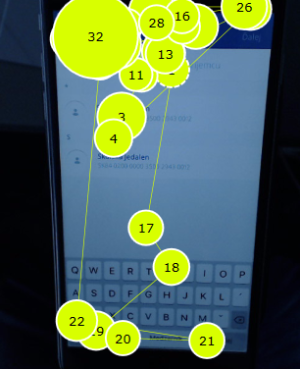 On the other hand, young people who are usually smart users of current mobile technologies, often do not accept that they could have any problem. They rather pretend that everything is perfectly fine. Thanks to eye tracking, we were able to compare their personal assessment with a reality.
Finally, we found out that they have either a big self-confidence or do not consider these difficulties as serious compared to older people. We also found out that speed definitely rules the world. They quickly went through many different screens. However, they did not have hold the same attention during the whole process in comparison to classical desktop environment. Thus, it is not effective to place two important buttons at a one web page, because some users can have problems to choose the right one.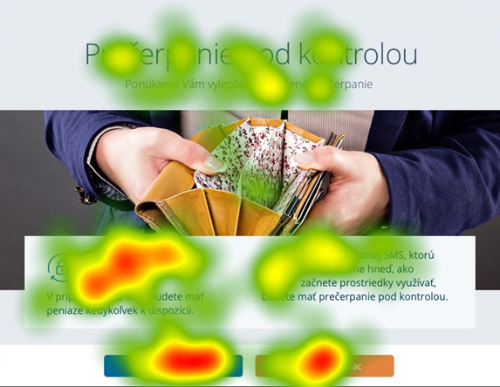 Eye tracking
Eye tracker is a technological device that scans, where our eyes are focused. Coloured circles shown on a screen indicate places, where we looked at. Special software exports different results necessary for respective analyses. Eye tracker also helps us to create new user experiences and innovative interfaces that are more natural and effective compared to common used methods.
This test was done by eye tracker Tobii Pro X2-60.
Do you like this topic? Do not hesitate to contact us.