Najšport Case Study How we created a marketing strategy that brought our client the yellow jersey
In today's world, having a quality and reliable e-shop and an effective marketing strategy is crucial for the success of any e-commerce project. At ui42, we therefore place emphasis not only on that, but also on the overall usability of the website (UX). In collaboration with Najšport, we once again confirmed the power of a one-stop shop, as we increased the performance of marketing campaigns and reached a larger number of customers thanks to the integration of individual services, which resulted in a growing number of orders. By combining marketing and UX, we can bring excellent results to any project. Don't believe us? See for yourself.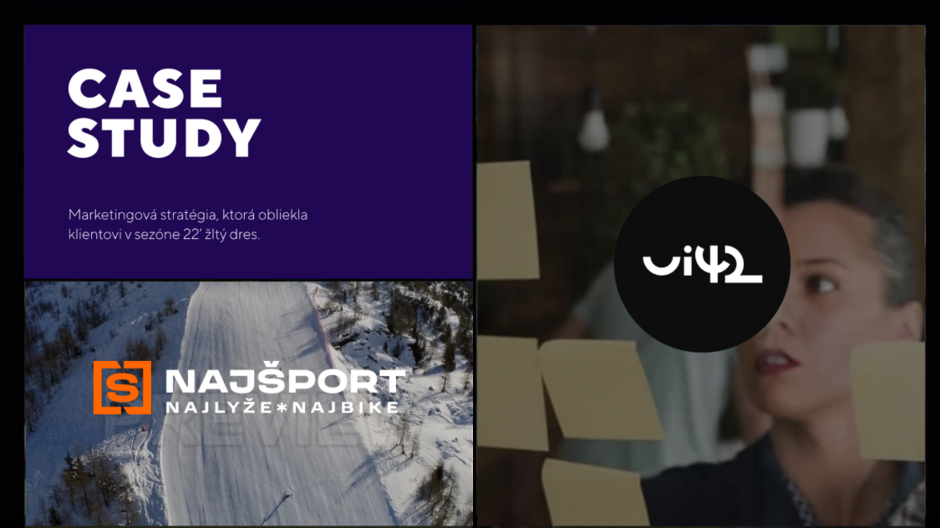 ?
ui42 and Najšport cooperation
It all started in 2018 when we worked on a redesign of the client's e-shop and its migration to the BUXUS CMS. In 2022, we were presented with a new task - to develop a marketing strategy and help the long-term client achieve its business goals more effectively. As a one-stop-shop agency, we decided to leverage the potential of our specialists in every e-commerce sphere and take marketing and user experience - UX for Najšport to a new level.
The new marketing strategy for Najšport included managing paid campaigns on Google and social media, managing comparison sites, search engine optimization, media buying, and an influencer marketing strategy. We approached all of these tasks with a focus on improving the user experience (UX).
Starting in the middle of the season
Although Najšport is an established retailer of winter sports equipment, they were still a newcomer in the field of cycling when we began our collaboration. We started preparing the marketing strategy in the middle of the season, in the summer. The challenge of achieving results for the client was even greater as e-commerce in Slovakia experienced a 13% decline in 2022.
A fast, yet thorough e-commerce audit and priorities
From our analysis of previous marketing activities, we found that some channels were not fully utilizing their potential while others were overvalued, even at the expense of profitability. Based on their contribution to turnover and expenses, we determined our priorities, which allowed us to avoid abrupt changes in campaigns. Such changes could have led to a long period of learning new settings on PPC platforms and delayed the delivery of campaign results.
UX research and customer understanding
To ensure that we considered improving the user experience at every point of the new strategy, we paid special attention to the customer. What is important to them, how do they think, where do they look for information, what motivates them to buy, and what discourages them from buying? A moderated discussion with several potential customers (from different target groups of the client) - the so-called Focus Group - gave us a new perspective on the online business of Najšport.
Campaigns on Google and social media networks
Based on a thorough analysis of keywords (for both summer and winter ranges), we obtained valuable information for paid campaigns. Along with external tools, keywords also helped us optimize Google campaigns, by addressing segmentation and product grouping according to performance. To maximize the reach of visitors in the funnel of their buying process, it was crucial to scale campaigns widely across different types and platforms. We dynamically addressed changes in ads based on client demand and the market. We also leveraged known personalities from the segment to enhance Najšport brand awareness.
Price comparison sites as a stable conversion tool
Hard work - properly processing data and striving to match the largest possible number of products and categories - resulted in great results. Within the first few weeks, a previously weak sales channel became a high-converting tool. How? When setting up paid campaigns, we used the latest proven tools for optimizing costs in bidding and product pricing. The result, while maintaining the same cost-share of revenue (PNO), was a 100% increase in revenue.
Influencer strategy with measurable results
We took our collaboration with influencers to a new level. The first step was to divide the target audience and select relevant influencers. With the chosen influencers, we clearly defined the collaboration and reporting. Our new ambassador, Maroš Molnár, increased brand awareness and credibility. The creatives featuring Maroš Molnár achieved not only above-average engagement rates but also a 16% higher CTR on average.
UX optimization
Thanks to initial findings from the focus group, we gained insight into customer needs. Based on these findings, we expanded product details, added more information about the products, improved the shopping cart, implemented AI-powered recommended and complementary products, and even introduced pre-orders for specific product types. All of this aimed to improve the customer's comfort in the e-shop, remove purchasing barriers, and provide professional services and support to customers without the need for an expert sales assistant in the brick-and-mortar store.
Results of our cooperation
Main areas of cooperation
Google Ads
Social Media Ads
SEO
Brand
Price comparators ?
E-commerce tips and improvements
Influencer marketing plan
Optimization of UX
A comprehensive portfolio of e-commerce services of the agency's one-stop shop
What did Najšport say say about our cooperation
We actively cooperate with ui42 on marketing collaboration, UI/UX design, SEO, and the technical side of the website, including the Buxus CMS and the Pohoda CRM accounting system. After a year of intense marketing cooperation with ui42, we managed to increase the revenues of our business. The biggest increase was recorded on the e-shop, as well as in the brick-and-mortar stores in Bratislava and Trenčín. ui42 comes up with ideas on how to increase sales in physical stores as well as on the e-shop, and how to improve the user experience of customers in the e-shop. We have seen improvement across the entire e-commerce segment compared to the previous agency, thanks to efficient consultations, planning of marketing campaigns, and many other activities.

We know that sometimes it can be challenging to quickly respond to our requests, and we are all the more delighted with this cooperation. We believe that our joint plans to achieve our goals will help us progress together.
Petra Klemová

Sales & Marketing Specialist
Our agency adheres to the rules and principles of
Fair Tender
.